Bollywood Movies
Penn State finds no racial slurs used by fans during game against Rutgers
After further investigation, Penn State's athletic department found "no apparent racial slurs" used by Nittany Lions fans during the men's basketball game on Sunday night despite the accusations, the university told Fox News Digital in a statement.
"A deeper look into the matter today included conversations with Rutgers athletic director and staff, reports from University police officers at the event, and other game staff. Information was inaccurately conveyed to the Legion of Blue student group, which supports Penn State men's basketballand has not been found to be true."
The university admitted that "vulgar language" was directed at Rutgers players, which it announced.
CLICK HERE FOR MORE SPORTS COVERAGE ON FOXNEWS.COM
"We are disappointed as it does not represent Penn State values, appropriate fan conduct, or the Happy Valley Hospitality for which we are known," the statement read. "Fan behavior is important to the experience of all teams and visitors to Penn State and our goal is to create an environment that is competitive, but welcoming.
The athletic department issued a warning to its student-fan organization, the Legion of Blue, after a message from the group's vice president revealed that the university had received a warning from police over "alleged explicit, racist, and vulgar language" that was directed towards Rutgers.
Rutgers rallied from a 19-point deficit in the second half to defeat Penn State, 59-56, Sunday night, marking the Scarlet Knights' biggest comeback in nearly 30 years.
While the Nittany Lions were unsurprisingly stunned by the upset, a message obtained by Noah Riffe, a photo editor with Gannett, revealed that some members of the Legion of Blue allegedly used racist and explicit language directed at the opposing team.
FLORIDA STATE'S MATTHEW CLEVELAND HITS BUZZER-BEATER TO UPSET MIAMI IN HISTORIC ACC COMEBACK VICTORY
"Obviously, not the result we wanted on the court," the message from the group's vice president Noah Odige read. "Loved the energy from the crowd. There are some issues, however, that need to be addressed."
"Firstly, there are lines we do not cross as fans, this includes being physical, hostile, or in any way disrespectful to opposing fans, players, coaches etc," Odige continued, explaining that there were reports that a fan had thrown a large poster at one of the opposing team's players or coaches.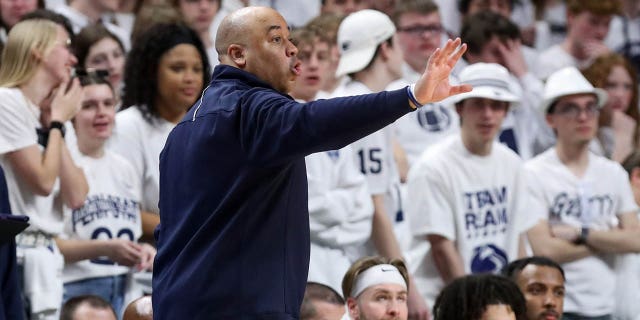 "Furthermore, the police have issued a warning to athletics due to the alleged explicit, racist, and vulgar language directed to members of the Rutgers basketball team."
CLICK HERE FOR MORE SPORTS COVERAGE ON FOXNEWS.COM
Odige did not detail explicitly what was alleged to have been said, but did issue a stern warning to the fan group.
"Things such as f-bombs, n-words, and other slurs being thrown around are downright unacceptable, and the privilege of sitting behind the benches will be revoked if this behavior continues."
Penn State's athletics department told Fox News Digital in a previous statement on Monday that it was aware of the "reported interactions."
"We have been in communication with the leaders of the Legion of Blue student group, and we do not condone the inappropriate actions of some individuals on Sunday night," the statement read.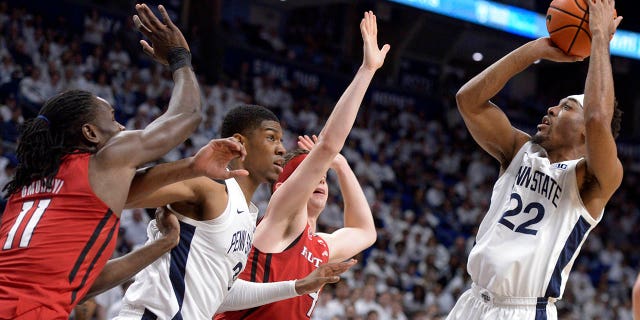 "The Legion of Blue has been tremendous supporters of Penn State Basketball for many years and have historically represented themselves in a positive manner while cheering on the Nittany Lions. These reported actions are out of character for the group and its leadership is aware of behavioral expectations for all fans."
The university warned that "noncompliance may warrant ejection from the venue, as well as the possibility of revocation of tickets and, in some cases, reference to the authorities."
CLICK HERE TO GET THE FOX NEWS APP
"Fan conduct is important to the experience of all teams and visitors to Penn State and our goal is to create an environment that is competitive, but welcoming."
A spokesperson for Rutgers men's basketball declined to comment on the matter but added, "we are looking forward to our game on Thursday against Minnesota."
Source link